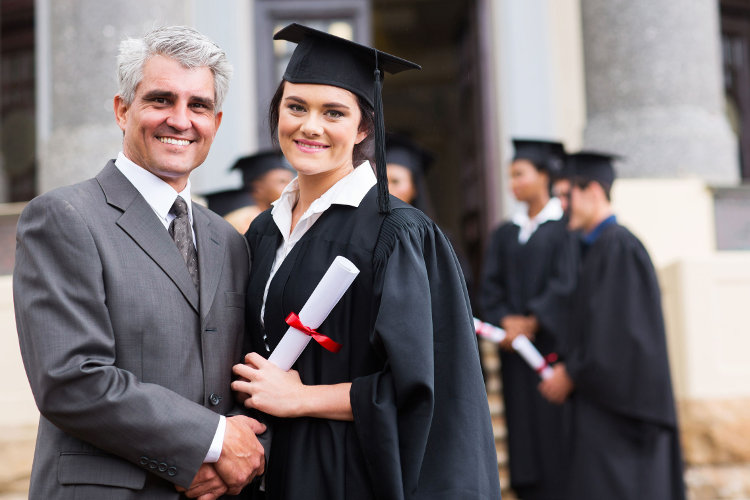 Dads and Grads. Father's Day is just around the corner and most colleges have graduation ceremonies in May or June. So "Dads and Grads" ends up being a catch phrase in the media for the parties and the presents for these events.
But if you graduated from college without a job, you might not feel much like partying. And, as for the presents, well, you might be requesting that friends and relatives give cash instead.
Depending on the major, as many as 50% or more of new grads may enter the workforce not actually entering the workforce, but unemployed. As a side note, the national unemployment stat doesn't include newly minted college grads. Why? Because they are not technically "unemployed" due to not leaving a job. Yet they are still every bit unemployed. Or, as is often the case, underemployed.
So what are the steps you can take if you are newly unemployed or underemployed? Follow these key steps to get your job search on track after graduation:
1. Get your job search portfolio together.
If you haven't yet completed your resume, do it now. No more procrastinating or putting it off to higher priorities. Your job search is now your highest priority. If you need help getting started, use the Quickstart Resume Generator. You will get a well-formatted resume in 15 minutes or so, completely free. And then start to build (and track) your network contacts and research employers. Prep before you attempt to connect.
2. Don't forget your college contacts.
Your college career center is still there to help you, as are your professors. But your best contacts are actually your classmates from your major, especially those who are employed. It's possible (and perhaps even likely) that if they have accepted a job, they may know of one (or two or three) other jobs which they either turned down or were in the process of being considered for. These are potentially still open roles that need to be filled. Ask for specifics and start making connections.
3. Broaden your title horizons.
If you have been narrow in your search for one specific role or title, now is the time to begin broadening your search. Look at the broad spectrum of roles that hire individuals with your background and/or degree. There are some jobs which hire college grads from any major. Do a job search by your major instead of by job title. Or search all entry level jobs to see what is out there and available. Yes, it takes time to go through them one-by-one, but you will learn a great deal about your viability and marketability in the process.
4. Broaden your geo horizons.
If you were looking in only one or two geographies, consider adding new ones. Or even consider removing any geo restrictions to begin a nationwide search. Or worldwide. This is your opportunity to step out and take a new direction in your life.
5. Make your job search your full-time job.
Until you have a job, your job is finding a job. Don't use after-college-unemployment as an excuse for pursuing recreational activities. Or, even worse, doing nothing. Commit yourself to a full-time job search and the potential opportunities that open up will broaden exponentially.
6. Consider grad school.
If your degree and major is not aligned with what you want to do in life, consider going back to school. A recent grad with a Chemical Engineering degree decided he didn't want to work in the energy or plastics industries. Then he decided he really didn't want to work in ChemEng at all. So he went to grad school and got his MS in Mechanical Engineering, his true first love in work. Now he has a great job as a Mechanical Engineer with a consulting firm. You can quickly and easily check out grad school options at CollegeGrad.com.
I am a firm believer that there is a job with your name on it. Your job is to find it. We're here to help you along the way in your journey to life after college.
Your new job is out there, so move your job search forward today!